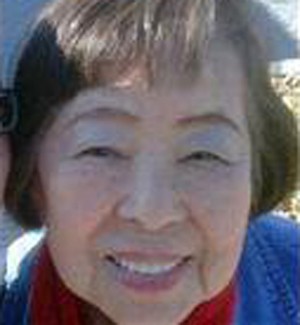 Yoko Cullen of Belleville.

Related Stories
EDWARDSVILLE • An 85-year-old Belleville woman was alive in the trunk of her car when it was destroyed by fire in East St. Louis in May, a coroner's jury was told on Wednesday.
Three people have been charged with first-degree murder in the death of Yoko Cullen, who apparently was the victim of a carjacking as she left a bingo hall in Collinsville. The car was found burned near the intersection of 11th Street and Falling Springs Road in East St. Louis.
Cullen's remains were found in the trunk after the car had been towed to Andy's Auto Body and Towing in the city of Madison. That's why the inquest was held in Madison County even though the criminal charges are being prosecuted in St. Clair County.
Shane Liley, a Madison County coroner's investigator, testified that Cullen's body was almost entirely consumed by the fire but said part of her trachea was found and the inside of it was coated with soot.
"It indicated to us that she was breathing when the fire started," Liley said.
Pathologist Raj Nanduri found no evidence of other injuries, Roger Smith, the chief deputy coroner, told the jury, which later ruled the death a homicide.
Charged with Cullen's murder are Daquan D. Barnes, 18, of Granite City; his cousin Demarcus D. Barnes, 28, of Belleville; and Latosha A. Cunningham, 37, of Belleville.
East St. Louis police Detective Orlando Ward told a reporter after the inquest that investigators believe Cunningham and Cullen were acquainted as neighbors and that both frequently played bingo at the Firemen's Hall on Collinsville Road.
Ward said the suspects apparently thought Cullen had a substantial amount of money with her but were mistaken as she had only a small amount of money.
Read more: http://www.stltoday.com/news/local/crime-and-courts/article_a9498ddc-c8f2-11e0-a8d1-0019bb30f31a.html#ixzz1VKCYQJwY